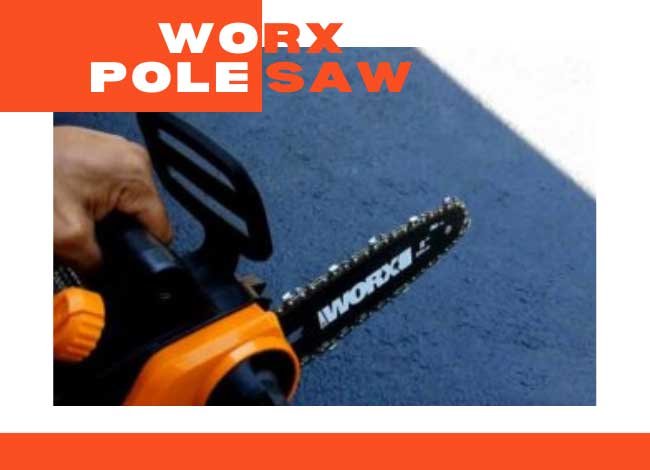 The Worx WG309 electric pole saw is one of the best pole saws that you will come across on the market. It was perfectly designed for easy use and it has lots of outstanding features that will make pruning and cutting tree branches to be fun. The pole saw can easily cut through thick limbs and it provides enough power with its 8-amp motor.
If you want to know more about this electric pole saw before buying it, then continue reading this Worx Pole Saw review.
Related: Similar Pricing – Sun Joe Pole Saw Review [Electric Saws]
Technical Specifications of the Worx Pole Saw
| | |
| --- | --- |
| Features | Worx Pole Saw |
| Chain system: | Patented auto-tension |
| Motor : | 8 amp |
| Oil Tank Capacity: | 120 ml |
| Pole Extension: | 8 feet |
| Chain Links: | 40 |
| Chain Speed: | 8.5 m/s |
| Rotatable working handle: | Yes |
| Low maintenance: | Yes |
| Rated Voltage: | 120V to 60Hz |
| Power Source: | corded-electric |
| Weight: | 10 pounds |
| Dimensions: | 42 x 8 x 9 inches |
| Price: | Check Price on Amazon |
Worx Pole Saw Review 2023
Do you want an affordable Electric Pole Saw & Chainsaw? Then buy WORX WG309 8 Amp saw.
Compact and lightweight design
Weighing around 10 pounds with the motor included, this is a very lightweight gadget that you will enjoy using for most part of the day. You won't feel fatigued as you prune both low and high branches. In addition, it is very compact and very easy to handle or keep.
Related: Silky Pole Saw Review[Telescopic Landscaping Saws]
Easy to use
Featuring a handle rotation with quick stops, you will find that using this tool is easy and fun at the same time. You can quickly prune or cut the tree branches with the rotation feature. Also, you can stop where you want.
Low maintenance
One of the best things about this unit is that it has auto adjustment and auto maintenance functionality. The auto-adjustment function handles the adjustment of the chain when tension is felt weak. It also comes with a self-lubrication system that performs the job of lubrication before the bar gets stuck. This helps in the maintenance of this pole saw.
8-foot extension pole
If you want to extend the pole to reach up to 10 ft, you will have to attach the 8-inch extension pole without using any tools.
Consistent performance
Unlike many pole saws on the market, the WG309 pole saw will offer consistent performance as it has a powerful 8-amp motor.
Related: Similar motor user – Remington Pole Saw Review
Safe and clean cuts
This tool is very effective in performance as it will provide you with safe and clean cuts. The extension pole ensures that you don't endanger your life by standing below the tree branches that you're cutting.
Ergonomic comfort grip
Its overall design is amazing and you won't feel any pressure or burden as you prune or trim your fence. The ergonomic handle provides comfort to the user, which in return reduces strain and allows you to work for longer hours.
Versatile
Since you can easily connect the pole to cut high branches or remove the pole to cut wood by only using the saw, this is a very versatile tool that you will enjoy having in your home.
Related: If you need a unit that is quiet in operation and cordless, then check this Oregon Pole Saw Review article
Warranty
The manufacturer provides a 3-year warranty which is a good thing if you are not fully convinced that this is the tool for you. In addition, it comes with a 30-day money-back guarantee.
Why buy Worx wg309 electric pole saw?
It is both lightweight and compact
It delivers plenty of power and torque
It has an ergonomic handle that provides comfort
It can access hard to reach areas as it extends up to 10 feet
It comes with a rotatable handle for easy pruning
It is very easy to install as it doesn't need any tools
It is safe to keep as it comes with a blade protection cover
It is easy to maintain
It comes with 3 years warranty
Cons of the Worx wg309 Pole Saw
Many users have reported that the chain falls off easily
This is quite loud and maybe a nuisance to neighbors or people around you
You will have to store it properly as it leaks oil after use
Conclusion
The Worx WG309 is one of the best pole saws that you will come across on the market. The tool is very powerful and well made to last long. It is also lightweight and will do a great job of offering precision cutting of different branch sizes. Compared to other poles, this unit is very powerful and will get the job completed quickly. No more climbing on ladders as it has an 8-inch extension pole that can reach up to 10 feet.
Related: Greenworks 40 Volt Pole Saw Reviews
Nevertheless, you should know that the chain will be loose while it's still new and you will have to tighten it in the right way in order to fully maximize it. Besides this, the WG309 is a perfect tool for pruning the ugly-looking branches that were destroyed by the storm in your garden or lawn. I hope this Worx Pole Saw Review article will help you a lot to make the right decision.
FAQ
Question: How do I ensure that the chain isn't loose or doesn't fall off easily?
Answer: Simply tightening the adjustment knob doesn't rectify the problem. What you need to do is to loosen the tightening adjustment knob enough, pull the chain bar out more, and then tighten the chain tension adjustment knob. You are good to go now.
Question: How do I change the chain?
Answer: You will be required to unscrew the side and the chain and chain bar will come off easily. Check out the user manual to avoid making mistakes.
Still, have a question after reading this Worx Pole Saw Review? Comment below.