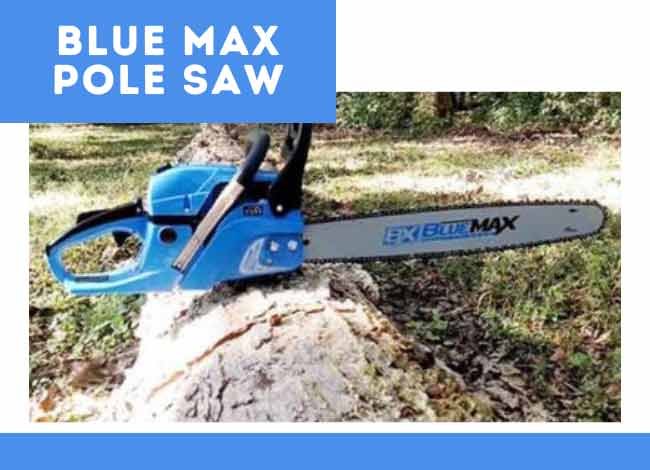 The Blue Max 53542 32.6 cc gasoline pole saw is a powerful and very efficient Pole saw tool that will get the job done well and effectively. This gas saw may be made in China, but it still meets the industry standards. On top of that, Blue Max Pole saw is affordable but still goes toe-to-toe with a high-end gas-powered Remington pole Saw. Read this Blue Max Pole Saw review to find out more about this saw.
Featuring a 10-inch bar chain, the Blue Max pole saw can reach most of the high tree branches, and it cuts them smoothly and with much ease. It can be extended up to 10 feet by simply attaching the extension shaft. The saw is also perfectly balanced and very comfortable to use.
Technical Specifications of the Blue Max Pole Saw
| | |
| --- | --- |
| Features | Blue Max Pole Saw |
| Safety automatic clutch: | Yes |
| Clutch Engagement Speed: | 4,500 RPM |
| Maximum idle Speed : | 3,400 RPM |
| Power Source: | gasoline-powered |
| Pitch: | 3/8″ |
| Includes: | Gas Welding Accessory |
| Maximum extension: | up to 10ft. |
| Weight: | 21.9 pounds |
| Dimensions: | 43 x 12 x 13 inches |
| Price: | Check Price on Amazon |
[toc]
Gasoline Blue Max Pole Saw Review 2023
If you're searching for a powerful gas-powered pole saw at an affordable price, then this is the best tool for your needs.
Powerful saw
If you're looking for great power, then the Blue Max pole saw is a great tool for you. It is equipped with 32.6 cc gasoline that provides excellent power enough for cutting thick branches. The saw has an idle speed of 2,700 to 3,400 RPM, which is just amazing for a gas saw. Additionally, it has a clutch engagement speed of 4,500 RPM that is far higher than the Black and Decker LPP120 Pole Saws.
It can be extended up to 10 ft.
One of the unique features of this saw is that you can extend it up to 10 feet. The bar length is 10 Inches. All you need to do is to add the extension shaft, and you will have a saw that can reach high branches and get the job done without climbing a ladder or the tree itself.
Easy to start
Apart from having great power, the gas pole saw comes with a safety automatic clutch for easy starting and dependability. Moreover, it has an anti-vibration system that offers maximum comfort with very little fatigue. As a result, you can work the entire day without having to be worn out. Unlike the electric Sun Joe Pole Saw, you don't need electric power to start or run the saw.
Runs smoothly
The saw runs smoothly, and this can be highly attributed to its effective operation and fuel primer. The primer gets rid of air from the carburetor and fuel system, thus making starting this device to be really simple. The chain oil is included that helps the chain be well lubricated for smoother operation.
Related article: Check the Technical Specifications of the Worx WG309 Electric Pole Saws
Well-balanced
Another great feature of this gas-powered saw is that it is well-balanced, and you won't be burdened to lift it up as you cut high branches. Also, this means that operating the unit will be easy and fun.
Affordable
When compared to other gas saws on the market, the Blue Max 32.6 cc pole saw is very affordable with exceptional features. It produces more power than a Poulan Pro 25cc Pole Saw.
Warranty
Blue Max is a brand owned by North American Tool Industries (NATI). They offer a one-year warranty against defects in material and workmanship. So, you can relax knowing that it is a legitimate brand with a great customer support base.
Summary: Why buy Blue Max Gas Pole Saw?
It is very easy to start with the safety automatic clutch
Blue Max 10-inch pole saw can be easily extended to reach up to 10 feet
It provides excellent power, which is ideal for cutting thicker branches without a lot of hustle.
This 2 cycle saw is perfectly balanced for an easier and more effective operation.
It runs smoothly and is very efficient
It has a nice handle for easy control of the unit
The pole saw is extremely comfortable to use. It has an anti-vibration system
It is very affordable when compared to other gas-powered pole saws on the market
It comes with a one year warranty
Cons of the Blue Max Saw
The saw is quite heavy and thus not suitable for use over long hours or to cut lots of branches. You can use a Greenworks 8.5-inch Cordless Pole Saw that is only 15.3 lbs.
It is somehow difficult to take down parts.
It is not durable as the plastic parts on the saw are cheaply made
Conclusion
The Blue Max gas-powered pole saw is very easy to use and effective in performance. It cuts both small and thick branches, which makes it to be ideal for garden or lawn use. But for big branches and logs, you have to use the Oregon cordless pole saw that can give you 325 cuts on 2 to 3-inch branches. Blue Max can also be extended and doesn't vibrate like most gas saws. With an idle speed of 2,700 to 3,400 RPM, the 32.6 cc gasoline pole saw will get the job done even before you know it.
FAQ
Question: Where are Blue Max pole saws made from?
Answer: Just like most products being sold in the USA, the Blue Max pole saws are made from China and imported into the country. But this doesn't mean that they are poorly made, but there is no a lot of information from the company.
Question: What is the total length possible when the saw is extended? Is the length adjustable?
Answer: This pole saw is around 10 feet when fully extended. This means that it can easily reach high branches, and depending on your height, it may even reach up to 12 feet. If you want to extend it, then you will have to add the extension shaft or use the Silky new professional pole Saw can be extended up to 26 ft. Also, the Blue Max pole saw is solid and not adjustable.
Still, have a question after reading this Blue Max Pole Saw Review? Comment below.