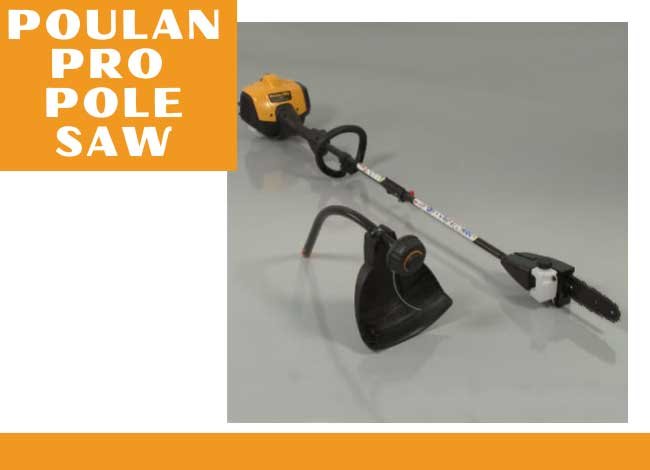 With more than 70 years in the industry, Poulan Pro is one of the best Pole saw brands to consider buying your pole saw from. Poulan Pro makes high-performance, durable, and high-quality pole saws. Apart from pole saws, they also offer chainsaws, hedge trimmers, snowblowers, lawnmowers, tillers, and much more. Today, we're going to look at the Poulan Pro PP258TP pole pruner. Read this Poulan Pro Pole Saw Review to find out more about this Pole Pruner.
Related: Similar power engine used – Remington Pole Saw Reviews
PP258TP is a sturdy and lightweight tool that will offer you many years of use. It features a powerful 2-stroke 25cc engine that powers on the device. Additionally, it has a 12-foot reach which is attained by attaching a 3 ft extension. The saw is easy to use and fast, so, you will have an easy time pruning limbs in your compound.
Technical Specifications of the Poulan Pro Pole Saw
| | |
| --- | --- |
| Features | Poulan Pro Pole Saw |
| Cuts per charge: | up to 65 cuts |
| Bar Length: | 8-inch saw |
| Total Reach : | up to 12 feet |
| Power Source: | gas powered |
| Engine: | 2-stroke 25cc |
| Easy to use | Yes |
| Quick starting: | Yes |
| Weight: | 20 pounds |
| Dimensions: | 96 x 11.5 x 11 inches |
| Price: | Check Price on Amazon |
Poulan Pro Pole Saw Review 2023
Here are the Poulan Pro PP258TP features, pros, and cons:
Easy to use
Whether the pole saw is heavy or not, it should be easy to start and use. This is the case with the PP258TP pruner which is not only lightweight but as well easy to start. The pole saw has Surefire starting that delivers fast starting and a lot of power. Therefore, it is very easy to use and you won't have a lot of problems maintaining it.
Can be extended up to 12 feet
If you want to reach high tree branches or limbs, this is the right tool for you. The device comes with a 3 ft extension that allows you to reach up to 12 feet. This means that you won't need a ladder or to limb on top of trees while cutting high branches.
Allows attachment to ProLink attachments
Unlike many pole saws on the market, this one is extremely versatile as it allows other attachments to be connected to it for other purposes. The attachments should be from ProLink if otherwise, they will not be compatible with this unit.
Related: Blue Max Pole Saw Review [Gas pole saws]
It is fast and lightweight
When working on a large garden or area, you certainly not only want a quick tool but it should be lightweight, too. At 20 pounds, this is a device that you will enjoy using to prune your entire fence or garden.
Very powerful
Featuring a 2-stroke 25cc engine, this is a very powerful pole saw that will cut tree branches with a diameter of 6-inches or less. It also comes with an 8-inch saw bar that will penetrate easily into thick branches
Related: If you need a powerful corded-electric Pole Saw, then check this Silky Pole Saw Review [Telescopic Landscaping Saws]
2-year warranty
Poulan Pro is a reliable brand and it offers buyers of this product a 2-year warranty. If you register the product, you can also extend the 2-year warranty to a 3-year warranty.
Summary: Why buy Poulan Pro Pole Saw pp258tp?
The saw can extend up to 12 ft
It has the ability to cut branches up to 6-inch in thickness
It is easy to use and maintain
It functions easily and fast
It is very powerful as it features a 2-stroke 25cc engine
It is easy to start as it comes with Surefire starting
It is attachment capable with all ProLink attachments
2 years warranty
Cons of the Poulan Pro pp258tp 25cc pole pruner

It is quite expensive
Poor customer support from Poulan as they take long to respond
It doesn't come with a chain guard or over for proper and safe storage of the unit
Summary
Overall, the Poulan Pro PP258TP pole pruner is a wonderful tool for maintaining your compound and keeping it lovely throughout. The pole saw is easy to use, can cut branches with a thickness of up to 6-inches, is easy to use, and is very powerful. What else could you ask in a gas-powered saw? Furthermore, the manufacturer offers a 2-year warranty and the saw can be extended up to 12 feet to reach high branches. This is a great tool to have and maintaining it isn't a big problem as well. I hope this Poulan Pro Pole Saw Review article will help you to make the right decision.
FAQ
Question: Does this pole saw come with an extension?
Answer: Yes, it does. Actually, it comes with a 3 feet extension that allows the pole saw to reach up to 12 feet or even more depending on the height of the person. All you have to do is to add the extension and reach high tree branches without a lot of difficulties.
Question: Does this pole saw come with a string trimmer head?
Answer: No, it doesn't. You will have to buy this separately but you can be sure that it can be attached with all ProLink attachments. So, it is very versatile and you can use it for different purposes.
Question: Is it possible to use a 14-inch bar with this unit?
Answer: No, it won't be possible. You should only use the recommended 8-inch bar and chain. This is because there is a high chance that there won't be enough power for a 14-inch bar as it is meant for an 8-inch bar.
Still, have a question after reading this Poulan Pro Pole Saw Review? Comment below.