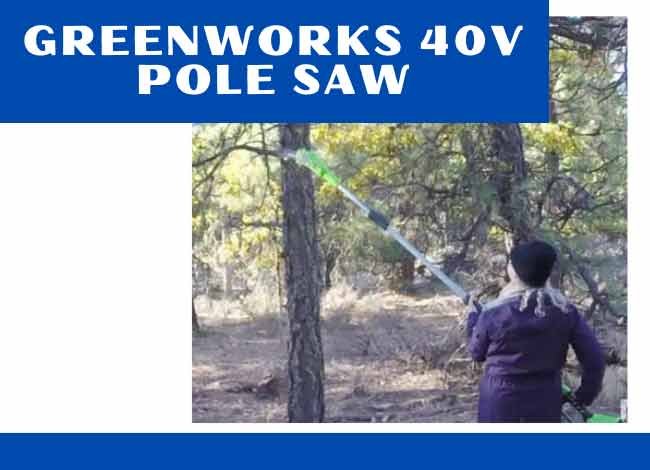 Do you want to get rid of the small dry hanging tree branches in your compound, or want to prune the trees over your fence? Greenworks 40v cordless pole saw is a great and powerful tool that will help to perform such simple tasks. Also, it is easier to carry and lightweight than the Poulan PR25PS Gas pole saw. Read this Greenworks 40V Pole Saw review to know more about this.
The GreenWorks GMax powerful pole saw can help you to trim branches up to 8 feet from the ground. It provides clean trimming and is very safe to use. The GMax 40v cordless pole saw features an 8-inch bar and chain with an automatic oiler to keep the bar and chain lubricated.
Technical Specifications of the Greenworks 40V Pole Saw
| | |
| --- | --- |
| Features | Greenworks 40V Pole Saw |
| Cuts per charge: | up to 65 cuts |
| Pole Length: | 8 feet |
| Smooth Operation and Less Noise : | Yes |
| Power Source: | 2AH (AMP hour) battery |
| Chain Tensioning: | easy-adjust |
| Includes: | 2.0 Ah Battery and Charger |
| Automatic oiler: | Yes |
| Electric Start: | Yes |
| Weight: | 8.360 pounds |
| Dimensions: | 107 x 7 x 7.5 inches |
| Price: | Check Price on Amazon |
The pole saw can provide up to 65 cuts when fully charged, which is slightly lower than the Black and Decker 100 cuts cordless pole saw, but it has an easy-to-adjust chain tensioning system. Just make sure to follow the right steps, and you will be done even before you know it.
Cordless Greenworks 40V Pole Saw Review 2023
Greenworks 40V saw one of the best-selling poles saw on the market. With its lightweight design and comfortable grip, you won't feel burdened as you tidy your garden or compound.
Powerful motor and battery
One of the most vital features to look at when choosing an electric pole saw is its motor and battery. The lithium-Ion battery is known for its extended battery life. The Greenworks pole saw has a powerful motor and a sturdy battery. The motor can work continuously without having any issues. Additionally, its motor is powerful as it can perform against thick branches accurately. With the powerful motor and strong battery, you will be able to cut precisely and quic0ker. On top of that, you won't have to worry about acquiring a new battery if the battery is rechargeable. So you don't need any electric connection, which is mandatory in Sun Joe SWJ800E electric pole chain saw to run the device. Also, you don't have to buy any parts separately as the charger and 2.0 ah battery are included (Lithium Ion) with every purchase.
Outstanding design
This is a perfectly designed pole saw that you would like a lot. Its excellent design allows you to carry it for a longer period of time easily. Thanks to its holding system that is easy to handle and works as stated. Apart from that, this is a good-looking pole saw that you would fancy carrying around your garden as you trim tree branches.
Clean trimming
When looking for a pole, you should consider one that trims well so that you don't leave your tree branches looking awkward or in a bad state. The Greenworks 40v cordless pole saw provides neat trims which will leave your garden looking good and admirable. You won't have to go back and forth trying to cut the same tree branches as it is very effective in what it does.
Adjust the chain tensioning system
This is one of the unique features of this saw. It comes with an adjustable chain tensioning system for quick tightening of the chain. All you need is a screwdriver to tighten the chain of the saw without much difficulty. Just like many other users, you can follow the instructions in the manual carefully in order to tighten it as required.
Automatic Oiling System
Just like most machines, the bar and chain of the pole saw need chain oil more often. What is astonishing is that the bar and chain of this 8-Inch cordless pole saw oil themselves automatically. Like the Remington gas-powered pole saws, you don't have to get messy as you oil the machine as it will oil itself. Ensure that oil is in the oil container, and you can view its level in the translucent oil window that the unit comes with.
Safety
Unlike other pole saws on the market, the 40 Volt Greenworks pole saw is very safe to use, and you don't have to worry about a thing as long as you use it as recommended. The saw provides ultimate protection, but you should not use it anyhow. For instance, the low kickback chain is a great safety feature of this saw. But even with this, never allow kids to use this device as it can bring damage or even hurt them.
Another safety feature of this pole saw is its switch lock, built into the rear handle of the device, and it prevents it from accidentally starting. This lock has to be depressed in order for the throttle to be activated.
Firm grip
It doesn't matter if you intend to prune or trim tree branches the whole day. You will still have comfort and be okay when you use the Greenworks 40v pole saw. This is because it has a non-slip grip which will not only protect you as you trim branches but as well offer comfort. So, no more burn as you put the gadget into operation.
Related article: Technical information and honest review of Fiskars pole Saw
Anti-rotation
Most pole saws hamper operating speed by rotating automatically. At times, you will detect that your saw is changing in the middle of work. This not only wastes your time but as well your concentration. With this pole saw, this will be a thing of the past as it has an anti-rotation function that prevents this from happening.
Standard length
Regardless of being of a standard length, the Greenworks Gmax 40V cordless power saw can be extended to cut the tallest branches. The saw can reach up to 8 feet which is similar to Worx WG309 electric pole saw. This is an ideal size and will help you to trim even the tallest branches.
Warranty
Another feature that sets this pole saw from the rest is its amazing warranty. Greenworks provides a 4-year warranty to buyers of this product. This means that you are covered for 4-years, and in case of any issue or defect, you can always return the gadget and have it repaired or replaced. So you already have all the technical specifications of this product through our Greenworks 40V cordless pole saw review. Now let's check the Pros & Cons related to this pole saw model.
Summary: Why buy Greenworks 40V cordless pole saw?

It operates smoothly and silently.
Cutting bar angle allows easy pruning.
These power tools have a powerful Li-Ion battery with an excellent runtime
This 8-inch cordless pole saw is effortless to operate
It is lightweight and easily maneuverable
It provides up to 65 cuts on a full charge
The battery has an amazing LED fuel gauge that lets you know how much power is left.
It is very easy to start as it is electric.
Faster cutting with the powerful battery and motor
It has a non-slip grip for comfortable use
Cons of the Greenworks 40V pole saw

The battery is quite difficult to pull out from the compartment
It doesn't come with a shoulder strap that can relieve you when using it for over a long period. The Oregon cordless pole saw comes with a comfortable shoulder strap.
Some users have complained that the battery overheated when used for a long time.
Conclusion
The Greenworks cordless pole saw will help you to keep your tree's branches in check and the surrounding in order around your home. The unit comes with lots of outstanding features that make it be an exceptional pole saw for use at home. Greenworks GMax pole saw can b used to cut all kinds of branches, and it is very powerful and easy to use. This battery-operated pole saw is quieter in operation compared to a Blue Max 53542 pole saw. You don't need to be an expert to use it as it is also safe.
However, this device is nowhere near a gas-powered saw, but it does a great job, especially for home use and not for commercial use. I hope this Greenworks 40V Pole Saw review would help a lot to make the right decision.
FAQ
Question: Does this pole saw come with chain oil in it?
Answer: No, it doesn't. You will have to purchase it separately, and you will get it in almost any hardware store.
Question: Is it okay if I add a longer bar to the pole saw?
Answer: No, it's not a good idea. The pole saw is ideal for small branches. This is because the maximum height with the middle pole attached to it is around 97-inches long. So, adding another bar to the cordless saw will make it dangerous to use or operate. If you want a longer bar, you have to use the Silky professional pole Saw that can be extended up to 25 ft.
Still, have a question after reading this Greenworks 40V Pole Saw Review? Comment below.