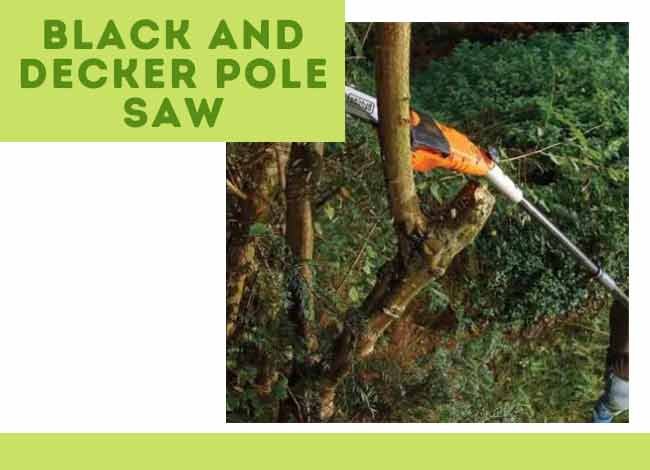 With a wide range of pole saw brands and types to choose from, it is important that you choose the right pole saw for maintaining your garden or fence. Black and Decker are one of the most re-known pole saw brands on the market. They offer powerful, lightweight, reliable, and durable products. Today, we're going to look at the Black and Decker 20V cordless pole saw. Read this Black and Decker Pole saw review to know more about this pole saw.
BLACK+DECKER LPP120 is a lightweight, durable and powerful pole saw that is very easy to use. Also, you will get this pole saw cheaper than the Greenworks 40V Pole Saw. It is an ideal tool for cutting and trimming tree branches of more than 6-inches in thickness. Besides, this tool can reach from a length of 6.5-inches up to 14-inches. It is also easy to maneuver and can be transported with much ease.
Technical Specifications of the Black and Decker LPP120 Pole Saw
| | |
| --- | --- |
| Features | Black and Decker LPP120 Pole Saw |
| Provides up to: | 100 cuts of 1 1/2″ pine branches |
| Maximum cutting: | 6 diameter |
| RPM : | 375 |
| Power Source: | battery-powered |
| Highest overhead reach: | up to 14ft high |
| Includes: | 1 20V MAX* Pole Saw with Extension, 1 20V MAX* Lithium Ion Battery, 20V MAX* Smart Battery Charger, Blade Guard Oil Bottle and Wrench |
| Batteries Included: | Yes |
| Weight: | 10.4 pounds |
| Dimensions: | 8.2 x 8.1 x 44.5 inches |
| Price: | strong>Check Price on Amazon |
Powered by a lithium-ion battery, the Black and Decker 20v cordless pole saw will give you 100 cuts when fully charged. This is a nice tool that is safe to use and easy to maintain.
[toc]
Black and Decker Pole Saw Review 2023
Black & Decker is a well-known brand for its quality product. BLACK+DECKER LPP120 20-Volt Lithium-Ion Cordless Pole Saw one of the best-selling saw on the market.
Excellent design
The Black and Decker 20v pole saw is well designed for easy handling and use. The best thing about this tool is that the weight is not focused on one end of the pole, thus you won't feel fatigued at all. This is because the battery is located at the bottom of the pole. Also, the pole is decent, strong, reliable, and lightweight. But if you want a more advanced pole saw, then consider buying a Silky Hayauchi Telescopic Pole Saw.
It has an extended reach
One of the challenges of using saws is that some are short and reaching tall branches can be a problem. But with this pole saw, this will be in the past as it can be extended to cut or trim even the tallest tree branches. The device comes with a length of 6.5 ft or 10 ft and with an overhead reach of up to 14 feet. With an 8-inch cutting bar, you will be able to cut branches with a thickness of 6-inches or even more.
Lithium-ion powered device
Featuring a 20v battery, expect this device to perform outstandingly and provide you with enough power to make several cuts. The battery can be charged for up to 6 hours and it is more powerful than the Fiskars Pole Saw. However, some people have complained that the battery isn't strong enough and it is not good for commercial use. The good news is that the battery can be used on other Black and Decker 29v devices.
Easy to maintain
The LPP120 20volt pole saw is very easy to maintain. But just like most saws, you will have to clean it after every use and inspect the chain for damage and wear. If you find the chain to be loose, you will have to tighten it a bit for better performance. One of the challenges of using this device is that you will have to oil the chain manually. This is quite challenging as it means that you will have to check it regularly.
100 cuts
With its exceptional power, this 20 volts cordless pole saw will allow you cut up to 100 pieces if the battery is fully charged. Many people say this is not correct because it is a 20v battery but it's close. Regardless, at 20v of power, expect this unit to provide you with lots of cuts before running out of power. So, it's better if you have some extra batteries ready to replace the drained one if you are working on a large garden. Poulan Pro Pole Saw will able to cut a maximum of 65 times, but the price is almost double that of the Black and Decker Pole saw.
Blade guard
Handling a saw can be risky as just a small mistake can make you nick or cut yourself. This is especially when the blades are sharp and not protected. The Black and Decker cordless pole saw comes with a blade guard for safe handling. Nevertheless, the blade may be protected by this feature but you should still be cautious when handling the saw to reduce the chances of injuring yourself.
Low vibration and noise
Some pole saws are very noisy and their vibration is unbearable. This is not the case with this 20v cordless pole saw. Its motor is not very loud and the vibration is low. As a result, you won't make noise to neighbors or passersby as you trim or prune unwanted branches on your garden. Like the Sun Joe affordable Pole Saw, you don't need an electric output to operate this tool.
Easy maneuverability
Whether you're short or tall, want to reach distant branches or standard height, this device gives you that opportunity to adjust it to your desired height and length. This makes it easy to maneuver and the different lengths allow the user to have ample time using the device over a longer period of time.
Affordable
For those on a tight budget, you will find that this is an affordable and quality pole saw. Besides being sold at a great price, this 20v cordless pole saw still provides enough power to cut a lot of branches without making a lot of noise. It may not be as powerful as the Remington RM25PS gas-powered pole saws but it is worth every penny.
Warranty
In case you receive this device with a defect in material or workmanship, you can always return it for repair or replacement to Black and Decker. Thanks to the two-year warranty provided by the manufacturer.
Summary: Why buy Black and Decker lpp120 Cordless Pole Saw?
The tool provides up to 100 cuts on a full charge
It is very lightweight and won't weigh you down
The pole saw is sturdy and reliable
It requires little maintenance which is a plus
The pole saw is very easy to use
It is a very safe machine to use
Its battery is compatible with other Black and Decker machines
Cons of the Black and Decker Saw
It doesn't have enough power. So the Oregon Cordless Pole Saw would be ideal for pruning many branches due to its excellent power.
The chain tensioning process is quite cumbersome and maybe a nuisance
The bar and chain have to be manually oiled
Summary
The Black and Decker 20v cordless pole saw is a wonderful tool that will help you to keep your compound clean and in order. It can reach far-off branches easily. The pole saw is half-time lighter than a gas-powered Blue Max pole saw. Moreover, this pole saw is very easy to use and reliable. On a full charge, you will get more than 100 cuts, which is simply exceptional for an electric-powered pole saw.
At such a great price with a 2-year limited warranty, the Black and Decker 20v cordless pole saw is a great tool to add to your gardening arsenal. Use it alongside a gas-powered saw for outstanding results.
FAQ
Question: Is it normal for the chain to fall off on my first day of using the pole saw?
Answer: Yes, it is. New chains usually fall off or loosen when they are used for the first few days. So, you will have to tighten the chain regularly until you use it several times. You will have to be patient although this is disturbing and time-consuming. Additionally, don't forget to oil the device when you tighten it.
Question: How long does it take to fully charge the battery?
Answer: The pole saw comes with an LCS20 battery charger which you will use to recharge the lithium-ion battery. To fully charge the battery, it will take you at least 6 hours, which is somehow a long period of time. But you will have to wait for the battery to fully charge before using it.
Still, have a question after reading this Black and Decker Pole Saw Review? Comment below.