In the past, people used conventional manual rakes to clear leaves during the fall. But with the advancement in technology, affordable and powerful backpack blowers have been created, and they've simplified things.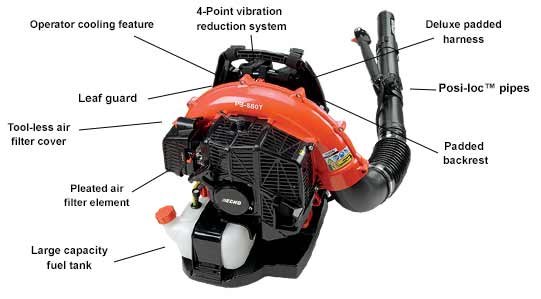 Today, many people are buying leaf blowers to clear leaves in their garden and other wastes. And one of the popular leaf blowers on the market is the Echo PB-580T.
Husqvarna 580bts and Echo PB-580T both have similar airspeed, but this unit is cheaper than 580bts. This backpack leaf blower has taken leaf blowing to another level as it is very powerful and comfortable to use. PB508T can also be used on residential and commercial properties. Read this Echo PB-580t Review to know more about this backpack blower.
Technical Specifications of the Echo PB-580t Blower:
| | |
| --- | --- |
| Type | Backpack |
| Starting System: | Standard |
| Engine Displacement (cc): | 58.2 |
| Carburetor: | Diaphragm |
| Fuel Capacity (fl. oz.): | 62 |
| Helper Handle: | Standard |
| Air Volume (CFM-pipe): | 510 |
| See-Through Fuel Tank: | Standard |
| Maximum Air Speed (mph): | 215 |
| Dry Weight (lbs)2: | 22.6 |
| dB(A)1: | 70 |
| Newtons (N): | 22 |
| Consumer Warranty: | 5 years |
| Commercial Warranty: | 2 years |
| Price: | Check Price on Amazon |
If you're a professional or serious hobbyist looking for a professional-grade and powerful leaf blower, then the Echo PB-580t gas-powered leaf blower is for you.
[toc]
In our Echo PB 580t review, we've collected all the important points that you need to know about the Echo PB-580t leaf blower. Read on and make an informed decision before purchasing this amazing leaf blower for your large garden.
Backpack Blower Echo PB-580T Review 2023
If you are looking for the best-quality backpack blower, then you should consider Echo pb580T.
Durable construction
A good feature to consider when buying a leaf blower is its construction. Not every leaf blower that you see on the market is durable. So, it is worth taking a look at and observing whether it will put up with the daily wear and tear.  For the Echo PB-580t gas-powered blower, you can be certain that it will last for many years to come. This is because many of the previous users have hardly ever complained about it malfunctioning or under-delivering.
The device also features a visible tank that will simplify things for you as you can see if there is gas in the tank or not. If you are working for long hours, this feature will be very vital. With its durability, you can easily move around with the blower in your garden without worrying about it dropping. The engine is made of plastic which means that it will stay powerful and blow waste around the garden without any problem.
Powerful blower
If you're looking for a powerful leaf blower for commercial use, then this is the right leaf blower for you. It comes with a strong engine that is able to produce a maximum airspeed of up to 215 miles per hour. With such power, it can blow even the hardest piece of waste in your garden.
Related article: Technical Specifications of the Husqvarna 350BT Blower
Moreover, the machine features a 2-stroke engine with a tube-mounted throttle which will assure the development of potentially great amounts of power that you can utilize for the purpose of cleaning out your backyard of leaves.
Comfortable straps
Some backpack blowers are not as comfortable as they appear. But for the Echo PB-580t blower, you will be amazed by how comfortable it is. The straps on this backpack blower are very comfortable and mold to the contours of your body to allow the user to carry the blower for a very long period of time without getting an achy back.
So, if you're a person who normally experiences backaches, you will enjoy carrying it without any issue. They will offer extra support that you need to be comfortable with all the hours that you will be working.
PB-580t Noise level Steady
One of the things that are disgusting about owning a leaf blower is its noise. There are people who prefer to use a traditional manual rake over a leaf blower because of the noise that they emit. The good news is that some leaf blowers have advanced and produce very little noise.
The Echo PB-580t leaf blower may not be the most silent leaf blower on the market, but it is not the loudest as well. It is estimated that this gas-powered blower produces just 70 dB(A) of noise during operation. This is fair and better than the Greenworks Pro 60V leaf blowers on the market.
Easy to assemble
Assembling this device is easy as it comes with a few parts. So, you can use it right out of the box. Simply follow the assembly instructions, and you will be good to go. For beginners, this will not be a challenge as there are no tricky parts to put together. Connect the parts correctly and get started right away.
Excellent warranty
This is one of the best warranties that you will find on the market. Many companies offer a 2-year limited warranty which is short. With the 5-year limited warranty that Echo offers, you will have enough time to find out if this is the right leaf blower for you or not. Also, in case of a defect in parts or workmanship, you can always have a replacement or repair made.
Summary: Why buy an Echo PB-580t gas backpack blower?

It features a powerful motor with a maximum airspeed of up to 215 mph
It is a cordless design, this enables the user to reach difficult to access areas
Echo PB-580t is easy to setup
It is simple to maintain
This unit is very durable
It is able to start most of the time without any problem
Cons of the Echo PB580T

It is quite louder than other leaf blowers on the market
Echo PB-580t is somehow heavy and thus not suitable for covering larger areas or for an extended period of time. If you are looking for a lightweight and affordable gas-powered unit, then check this Husqvarna 150bt Review article.
It is also expensive when compared to other similar backpack leaf blowers on the market
Conclusion
Overall, the Echo PB-580t is a great gas-powered leaf blower for professionals. It comes with lots of outstanding features that make your task easy and fun. It is also comfortable and powerful. When the gas is low, the visible tank will allow you to see and refill it in good time before going forward with garden your tasks. However, the device is costly than its competitors but worth every penny.
So, if you're looking for a durable and powerful leaf blower for a long time use, I would recommend this blower. The 5-year warranty should instill confidence as you have nothing to worry about. I hope this Echo PB-580t Review article will help a lot to make a buying decision.
FAQ
Question: Is this backpack leaf blower easy to assemble or not?
Answer: The Echo PB-580T leaf blower is very easy to set up. It comes with installation instructions that are very clear and straightforward. If you're a professional or have installed a leaf blower before, you will find it very easy. Additionally, the device has a translucent tank to see how much gas is left in the tank; hence, you will know the right time to refuel when you run low.
Question: Is it a corded or cordless model?
Answer: Like the Husqvarna 360bt 66cc backpack engine, this is a cordless leaf blower. That's why it uses gas instead of electricity. This also means that you will have an easy time using it in a larger area or over a longer period of time. When the fuel is over, you will just have to refill it and continue blowing leaves or other waste in the garden without having to adjust a cable like with corded leaf blowers.
Question: Can DIYers use this model even though it is recommended for professionals?
Answer: The Echo PB-580t is highly recommended for professionals, but DIYers, as well as beginners, can use it. All they need to do is to follow instructions to the latter. However, since this device is not recommended for beginners, we suggest that only people with experience of using backpack leaf blowers use it as it can be dangerous. Also, the price tag is not favorable for beginners and DIYers but okay for professionals.
Still, have a question after reading this Echo PB-580t Review? Comment below.